Cypher Queenz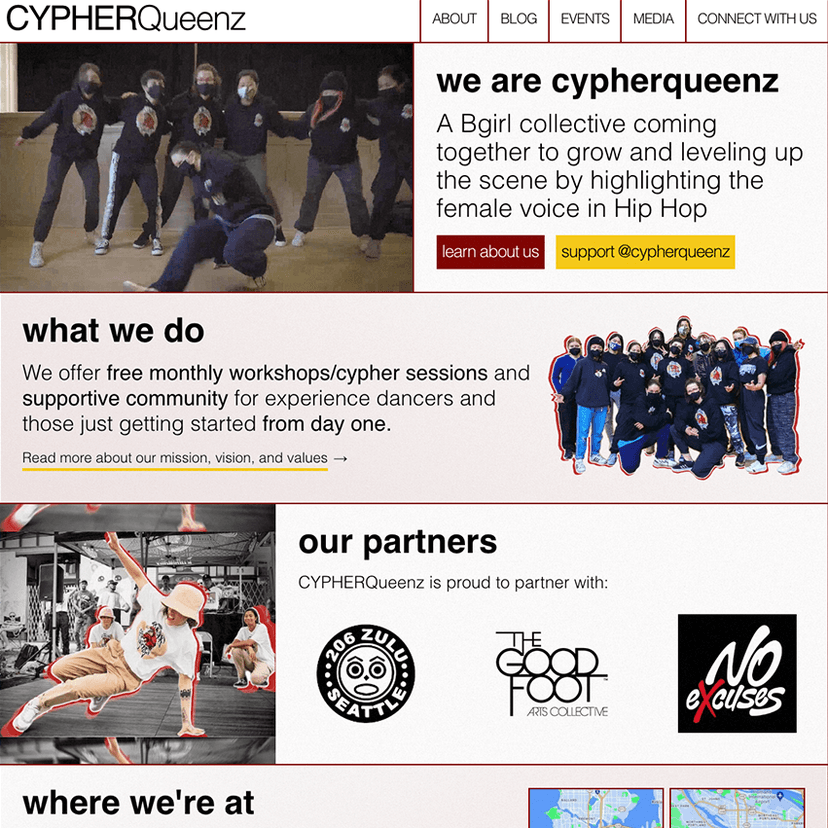 Cypher Queenz
Web App
Astro
Sanity CMS
SSG
Tailwind
Project Overview 🌟
Promoting CypherQueenz: Developed a dynamic platform to promote CypherQueenz, a vibrant Bgirl collective, highlighting the pivotal role of females in the Hip Hop scene.
Astro.js-Powered: Leveraged the capabilities of Astro.js to create a modern and dynamic platform that embodies the latest web development aesthetics and best practices.
Features and Functionalities 🛠️
Sanity.io CMS Integration: Integrated with Sanity.io's CMS to facilitate seamless content management, allowing for the easy update and maintenance of the site's content.
Diverse Content Showcase: Designed the platform to showcase a rich array of content including events, blogs, and galleries, offering a comprehensive view of the collective's activities and contributions to the Hip Hop community.
Design and Performance 🖥️
Optimal Performance: Ensured the platform operates at peak performance, offering fast load times and a smooth user experience.
User Engagement: Focused on fostering user engagement by adopting modern web development aesthetics and adhering to best practices, creating a site that is both visually appealing and user-friendly.
Outcome 🚀
Positive Reception: The platform has been well-received, effectively promoting the vibrant Bgirl collective and highlighting the significant role of females in the Hip Hop industry.
Showcasing CypherQueenz: Successfully created a space where the collective's events, blogs, and galleries are showcased, offering a vibrant and interactive platform for fans and newcomers alike.
Skills Honed 🛡️
Technical Skills: Enhanced technical proficiency by working with Astro.js and Sanity.io, gaining hands-on experience in modern web development practices.
Design Skills: Developed a keen eye for design, creating a platform that embodies modern aesthetics while promoting user engagement.
Content Management: Gained experience in content management through the integration with Sanity.io's CMS, learning to create a seamless content update and maintenance process.